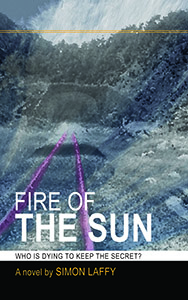 FIRE OF THE SUN is set in early 1939, where a cold chill grips the spy networks of Europe. There are terrible rumours, dark whispers of the discovery of a vast reservoir of ancient knowledge by the Axis Powers. What is certain is that people are being killed to maintain the silence.
An espionage battle ensues to try and prevent this discovery from being converted into weapons of war. But how can know-how be destroyed? And what about those who have already gained access to the knowledge?
---
Reviews for Fire of the Sun
"In his new book, Fire of the Sun, author Simon Laffy has once again delved deep into the world of science, warfare and madness. This time, he touches upon dark secrets of Nazi technology and adds a splash of science fiction into the mix.'

"The result is another whirlwind ride of espionage, passion and intrigue as we journey through the tense landscape of the storyline. By combining large measures of real events, Laffy creates a compelling mystery that races to a powerful and evocative conclusion.'

"Fans of the author will love this one!"
Neil Anderson, author
"I enjoyed the mixture of historical and science-fiction elements in this book. The research done for this story made the book feel more real, and as a person that loves mystery and suspense in a novel, I was not left disappointed.'

"A favourite part of the book was the characters. Alfie was a sweet-natured character in the midst of a brutal environment and manages to stick to his nature despite also having to grow through the difficult moments. Jazz was another inspiring character, charging her battles head-on in the search for justice and vengeance. With many more interesting characters that populate the book, each with their own struggles to face and a role to play in the big picture, they drive the story to its epic conclusion.'

"Overall, the unique mix in genre's and the roles of espionage and mystery made this a great book to read. With a lot of information and events in the story, it created a feeling of reality and pulled me in deeper into its pages."
Bookish Liz Blog
"Fire of the Sun tells the story of a nurse who meets an elderly patient, she starts talking to him, he tells her stories from the Nazi Germany. This book is a very interesting historical fiction book, a little different from all the other I've been reading. It's about some very nice theories that the Nazis has contact with alien technology, at first I thought this book wouldn't be that good but it is!'

"It's very well written and the characters are amazing, I couldn't put it down when I started reading because I was in love with the characters! If you're a fan of different stories, with good characters this book is for you!"
BookFreakBlog