Born in the middle years of the 20th century, Simon wasted little time before signing three recording contracts with major record labels, working as a composer, performer, producer and live artist, and appearing on 35 albums, several film soundtracks, numerous TV & radio appearances. He also undertook many headline and support tours in the UK, Europe, USA and Asia, working with such rock luminaries as Alice Cooper, Ozzy Osbourne, Kiss, UFO and ZZ Top.
Simon started working professionally as a writer during the 1990's, writing copy for Dennis Publishing on music and sport. Like perhaps most of us, he had harboured ambitions to write a novel for many years and by 2010 felt ready to pursue those goals.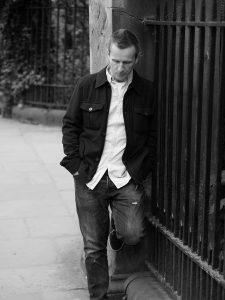 His first book, SEED OF SATAN, takes us deep inside the Kaiser's Reich, where scientists work desperately to produce a form of germ warfare that will provide the elusive breakthrough on the Western Front. They hope to end the years of stalemate and slaughter by bringing total victory to the Central Powers. One young Englishman is willing to risk his all to prevent them from succeeding.
His second offering, RED SUNRISE, is a literary thriller based in the Pacific southwest at the end of WWII that brings the reader into the mind of a warrior turned anti-war hero. He seeks redemption for the loss of both his ship and his family, but how can his natural fighting spirit triumph against the growing tide of US Cold War policy?
Simon's third novel is titled FIRE OF THE SUN. It is set in early 1939, where a cold chill grips the spy networks of Europe. There are terrible rumours, dark whispers of the discovery of a vast reservoir of ancient knowledge by the Axis Powers. What is certain is that people are being killed to maintain the silence.
An espionage battle ensues to try and prevent this discovery from being converted into weapons of war. But how can know-how be destroyed? And what about those who have already gained access to the knowledge?
Simon has recently started researching his fourth book, provisionally titled THE SUN WATCHERS.
---
In 2004, Simon's continuing music career saw him become a member of Manraze, a glitter punk experiment alongside Paul Cook of the Sex Pistols and Phil Collen of Def Leppard. While also working commercially with members of Duran Duran, he gathered enough latent material to start writing novels.
Simon has plotted synopses for a further nine historical fiction mysteries, including:
FIRE IN THE NIGHT, based upon the Great Fire of London and intended as a 'Bourne meets Perfume' thriller;

TOMORROW MAN, in which a half-Cherokee clairvoyant foresees the assassination of President Lincoln, attempts to alert the White House and gets drawn into the murder conspiracy; and

FROM THIS DAY ON, a murder/mystery political intrigue involving time travel and set in 2948.
Simon's novels are breakneck, lights-out rides through the big story scenery of familiar historical events, with hairpin twists and telegraphic destinations.
Do we ever really know the whole story?